We are Airtech International, Inc., headquartered in Huntington Beach, California, USA. Our mission is to provide value-added consumable products for the composite wind blade manufacturers.

Our products include vacuum bagging film, infusion mesh, peel ply, release film, breather, sealant tape and all vacuum connections. In addition, we offer CUSTOM vacuum bagging for any shapes and sizes. We've invested in high-tech machinery, new software, more personnel, and have opened up more floor space to provide customers with value-added solutions. As a result, we can help save you money and time!

Take a moment to browse through our site where you can find product data sheets, MSDS, and even download the Wind Energy brochure. Thanks for visiting www.airtechwind.com!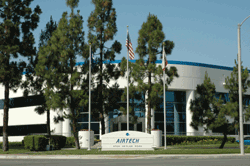 Airtech International, Inc.


Huntington Beach, CA